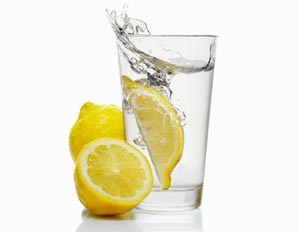 You should start out each day with a large glass of room temperature lemon water. Lemons are rich in vitamins especially vitamin C, one of the most powerful antioxidants that boosts your immune system, decreases your chances for a cardiovascular disease and as most antioxidants offers cancer-fighting properties.
Toxins are the number 1 reason for most of the health issues including inflammation, heart problems, and even cancer.
By hydrating our body, (especially our lymph system), we help to dilute that poisonous load of toxins we naturally produce due to our usually imperfect life style. Toxicity can be caused by stress, diet high in processed food and sugar, pollution, disease, medication, etc. Water purifies our body!!!!
Why Lemon?
Lemon energizes you and it enhances your mood. Lemon is one of the foods that contain alkaline PH and more negative charged ions, providing your body with more energy when it enters the digestive tract. Alkaline PH reduces the body's overall acidity. Acidic PH is a perfect environment for any disease, especially CANCER!!!! The goal is to balance the acidity and alkalinity in the body. Imbalance weakens the immune system.
The smell of lemon in your water also has mood enhancing and energizing properties. It can brighten your mood, reducing anxiety, depression, and help clear your mind.
Your Liver will say THANK YOU!
According to studies the citric acid in lemons helps maximize enzyme function, stimulating the liver and increasing overall detoxification. Lemon water reduces heartburn and constipation; it also promotes the urinary tract health. It also works as an appetite suppressant so it helps in weight loss. It removes all extra and harmful materials from the blood, and keeps blood concentration normal.
How about SKIN?
The vitamin C is one of the most powerful antioxidants available. Internally and topically, it dramatically helps in decreasing wrinkles, hyper pigmentation, scars, and acne. It is universal for any skin type and any age.