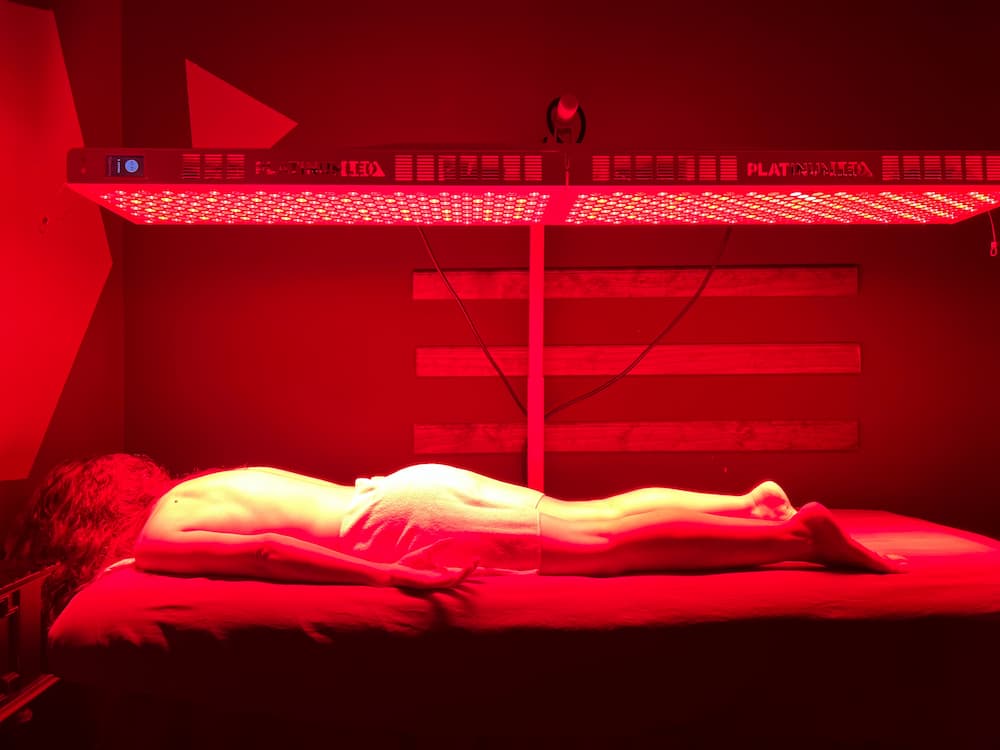 Price List based on 20 minutes session
Single session $60.00
Single session with a Facial (after) or Massage( before or after) $ 50.00
Package of 3 sessions $160.00
Package of 5 sessions $260.00
Package of 10 sessions $500.00
Red Therapy Light provides many health and beauty related benefits. Furthermore, it comes with no known side effects and is completely non-invasive. Red LED light devices work with your body to naturally produce long-lasting results.
Red Light Therapy is a process of emitting light wavelengths through the skin to stimulate your body's natural healing and regeneration processes.
When delivered within the optimal wavelengths and energy levels, red and near infrared light protect your body's cells from nitric oxide damage, which can otherwise stop the cell's production of ATP when you're stressed or ill. Red light photons allow your cells to continue utilizing oxygen effectively by minimizing the absorption of nitric oxide. Only red light therapy can reach all the way into a cell's mitochondria to stimulate healing and regeneration to help improve your appearance, performance, and overall well-being.
Red light therapy (RLT), also known as photobiomodulation (PBM), low-level laser therapy (LLLT), and low-power laser therapy (LPLT), uses specific wavelengths of light (650-850 nm) to produce long-lasting health benefits.
From anti-aging to performance-boosting to pain-relieving, RLT has a long list of benefits that are backed by thousands of scientific studies.
Red Light Therapy has been shown to increase natural production of collagen [5,6], have an anti-aging effect on human skin cells [7] and reduce the appearance of fine lines and wrinkles. [8]
Red Light Therapy has been shown to reduce inflammation. This may be (in part) why it is helpful for inflammatory skin issues such as acne. [9]
Red Light Therapy has been shown to improve wound healing and the healing of scars. [10
Photobiomodulation (PBM) also known as low-level level laser therapy is the use of red and near-infrared light to stimulate healing, relieve pain, and reduce inflammation. One of the most reproducible effects of PBM is an overall reduction in inflammation, which is particularly important for disorders of the joints, traumatic injuries, lung disorders, and in the brain. PBM has been shown to reduce markers of M1 phenotype in activated macrophages. PBM can reduce inflammation in the brain, abdominal fat, wounds, lungs, spinal cord.
Benefits of RLT:
Pain and ache reduction
Inflammatory relief (by decreasing the presence of inflammatory markers)
Joint Pain Reduction
Sore Muscles Relief
Autoimmune Disease Reduction
Arthritis Reduction
Quick Muscle Repair for athletes
Improved Blood Circulation
Cellular Health
Collagen Production for Skin, Hair, and Connective Tissue
Helping with Weight Reduction
Improved Mood and Better Sleep Quality
Contraindications:
The treatment is not recommended for:
Pregnant Women, Patients with Pacemakers, Patients who are taking drugs that are sensitive to light and heat such as steroids.
Precautions:
It's recommended to cover the thyroid gland and reproductive organs with provided towels.
Goggles or other protective eye wear must be worn during the entire treatment and will be provided by the spa.
Wearing underwear is required during each session.
Here are the top benefits of red light devices.
IMPROVED SKIN HEALTH Collagen Production: Reduction in Wrinkles & Scars
Red light therapy is well known for its ability to stimulate collagen production and this makes it a popular anti-aging therapy. Collagen Synthesis light penetrates the top layer of skin to stimulate collagen synthesis
The resulting collagen density increase improves skin tone and elasticity and leads to increased tissue repair and therefore, reduction in appearance of fine lines, wrinkles, and scars.
Anti-Aging
As we age, our body stops producing collagen. This leads to all the common signs of aging: wrinkles, sagging skin, and more. High collagen levels are critical to having soft, smooth, and firm skin.
Unlike other skin treatments like intense pulsed light (IPL), RLT does not damage your skin to induce tissue repair. It skips directly to stimulating skin repair and rejuvenation [1].
RLT can help brighten and tighten your skin, making you look years younger! Other anti-aging benefits of red light therapy include reduced undereye wrinkles, forehead wrinkles, laugh lines, and crow's feet.
Collagen ultrasonography scans taken before and after treatments revealed significantly improved collagen density [1].
Scars And Stretch Marks
Beyond facial benefits, red light therapy can also help reduce scars and stretch marks. By promoting the formation of normal, healthy skin cells, promoting new collagen production, RLT can improve your overall skin complexion, leaving your skin feeling soft and smooth.
Wound Healing
Promising research indicates that the light therapy may be useful in accelerating skin wound healingand higher collagen content.
The 660 nm wavelength has been proven to increase the formation of new blood vessels and enhance collagen deposition to help in the healing of wounds.
Skin Health: Treat Acne, Psoriasis, And Rosacea
RLT also Helps to Treat Psoriasis And Rosacea by reducing inflammation.
Red light has powerful anti-inflammatory properties which makes it a useful treatment for eczema, psoriasis, and other chronic inflammatory skin conditions. It may also reduce itching, offering relief as the condition heals.
Treatment of Sun Damage
Red light therapy is great as an anti aging remedy for the full body but especially for the face. Its collagen-producing properties help promote the growth of new, healthier skin tissue, including collagen and elastin. It can also help repair damage from UV rays and sun overexposure.
When it comes to photodamage, red light therapy in combination with photosensitizing agents can reduce and even remove sun spots (actinic keratoses). Actinic keratoses are considered to be potential precursors to a variety of skin cancers.
Chronic Pain Reduction/Reduced inflammation:
Unlike pain medications, red light therapy doesn't actually block pain. It works by improving the health and function of our cells, leading to a reduction in pain and even a possibility of a pain-free body in the long-run.
Clinical studies have shown RLT to relieve pain in people with osteoarthritis, rheumatoid arthritis, dental pain, oral mucositis (from chemotherapy), and back pain [15, 16, 17, 18, 19]. In particular, RLT seems most effective in reducing joint pain.
REDUCE PAIN
Eases joint stiffness and soreness
Diminishes inflammation
Reduces muscle spasms and increases blood flow
REDUCE INFLAMMATION
Soothes sore muscles, joint pain, and arthritis
Eases symptoms associated with autoimmune diseases, spinal cord and traumatic brain injuries
the 660nm reaches into the entire range of the skin tissue to promote healing and regeneration.
In a study investigating the effects of red light therapy on pleurisy, the 660nm wavelength was found to induce an anti-inflammatory effect.
Improved bone healing:
The 660nm wavelength encourages resorption and formation in the bone cells around the location where repair is needed, without causing any change to the bone structure.
Reduced swelling following injury:
In one study, the 660 nm wavelength was found to reduce both inflammation and swelling by reducing the number of inflammatory cells which lead to the formation of swelling.
Reduced neuropathic pain:
A study investigating sciatic nerve pain in rats found that the 660 nm wavelength significantly helped to reduce pain.
IMPROVE CIRCULATION
Dilates blood vessels for increased flow
Protects red blood cells and platelets 3. Reduces Hair Loss: Grow Healthier, Thicker Hair
Stimulate Hair Growth 
Stimulates stem cells in the hair follicle to encourage active growth
Fortunately, recent human studies have shown that red light therapy can improve hair growth by over 35% in both men and women with androgenetic alopecia [8,9].
This therapeutic technique requires your hair follicles to be alive for it to work.
Weight Loss Reduction in Stubborn Fat/Cellulite/Body Contouring
Red light therapy can make a great addition to your weight loss journey.
Clinical studies have shown that RLT can reduce fat and cellulite. While the "how" isn't exactly known yet, the leading theory is that RLT produces small holes in fat cells, which causes lipids (the molecules inside your fat cells) to leak out [10].
Two 20 minute sessions per week for four weeks are recommended followed by 1 session per week.
Muscle Repair: Eliminating Soreness & Improving Performance/REDUCE RECOVERY TIME
When used after exercise, red light therapy can reduce delayed-onset muscle soreness (DOMS) and speed up muscle recovery. And, when used before exercise, RLT can improve performance and endurance [12].
RLT helps yo decrease blood lactate levels [13]. The lactic acid buildup in your muscle tissues is what causes you to feel sore.
It accelerates muscle repair and stimulates mitochondria and stem cells for faster recovery.
Wound Healing: Recover From Injuries Faster
Red light therapy can speed up the healing process, especially when it comes to slow-healing wounds like burns.
RLT works by reducing inflammation, stimulating angiogenesis (the formation of new blood vessels), promoting collagen production, and boosting granulation tissue production [20].
While healing wounds is a less mainstream use of RLT, RLT has been used by NASA and Navy SEALs in space, during training, and under the sea [21,22]. It's also used by athletes to quicken recovery from sports injuries.