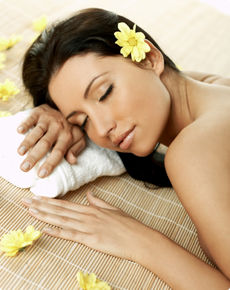 We rent our 3,000 sq. ft. facility for Spa Parties including Birthday and Bridal Parties.
Sign up to our newsletter and qualify to win Spa Package.
Like us on Facebook and win a Free Facial
Now offering healthy fruit smoothies with our Spa Packages!!!
PRIVATE TIME (3 ½hrs) –this revitalizing package includes: Skin Consultation, European Facial, Swedish Full Body Massage, Spa Manicure and Spa Pedicure $230.00
DAY OF BEAUTY (4 hrs) – Skin Consultation, Hydro-Lifting Facial, Aroma Spa Manicure, Aroma Spa Pedicure, Hot Stone Full Body Massage, & Healthy Lunch. $280.00
BRIDE TO BE DAY OF BEAUTY (4hrs)- Skin Consultation, Aroma Facial with Rose Petal Foot Bath, Swedish Aroma Body Massage, Aroma French Manicure, Aroma French Pedicure, Healthy Lunch. $280.00
MOMS-TO-BE (4hrs) –This revitalizing and pampering experience includes; Prenatal Body Massage, Skin Consultation, Spa European Facial, Spa Manicure, and Spa Pedicure, Healthy Lunch. $230.00
GENTELMEN'S GET-AWAY (3 1/2hr) – wonderful escape from every day stress -Man's Wellness Facial, Deep Tissue Full Body Massage, Gentlemen's Manicure, Aroma Spa Pedicure. $235.00
TOUCH OF EUROPE DELUXE (41/2-5hrs)-a full day of relaxation designed to pamper you from head to toes – Skin Consultation, Anti-Aging Vitamin C Facial, Eye and Lip Treatment, Aromatherapy Full Body Massage, Reflexology Spa Pedicure,  Vitamin C Spa Manicure, Healthy Lunch. $330.00
GET AWAY FOR TWO– (3hrs)- (for Mother & Daughter or Two Friends). This relaxing & ultimate experience with someone very dear consists of; Skin Consultation, Soothing Full Body Massage (1 hr each), European Facial, Neck & Décolleté Treatment, Eyebrow Shaping and Healthy Lunch. $415.00(for two)
*Complimentary Sauna available for all Spa Packages (max. 20 minutes).